DouXian Food Obtains Halal Certification, Embracing New Opportunities in the Halal Market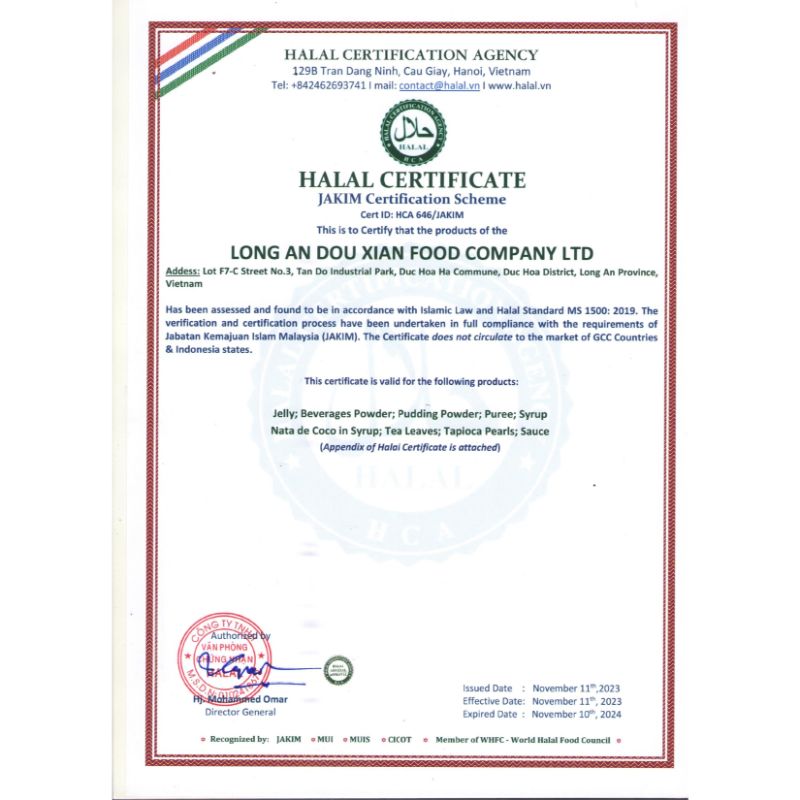 Dou Xian Food has recently announced the acquisition of Halal certification, a significant recognition of our continuous dedication to providing high-quality products and a crucial step in expanding into new markets. Since our establishment in 2007, as a leading player in the Vietnamese market, we've pioneered the realm of beverage shop raw material supply based on 100% Taiwanese technology. We offer up to 150 types of raw materials, including konjac, 3Q pearls, tapioca pearls, coconut jelly, various powders, fruit puree, sugar sauces, syrups, and tea leaves.
Our entry into the top tier of the Vietnamese market isn't just a testament to the stable quality we deliver but also our commitment to serving our customers better. In 2020, we established a new manufacturing facility and warehouse center, symbolizing our continuous evolution and improvement, enriching and enhancing our product line and services.
The attainment of Halal certification further validates our commitment to quality and sustainability. This crucial certification highlights that our products comply with the dietary standards set by Islamic laws, facilitating our successful foray into the Halal market and enabling us to serve a broader community with our high-quality products.
Our mission has always been to provide exceptional service and products to our customers. Obtaining Halal certification is part of our commitment, and we are actively seeking opportunities to expand our products beyond the Vietnamese market. We are confident in the future and will continue to dedicate ourselves to providing our customers with higher-quality products and services.